Delaware Healthy Children Program - How to Apply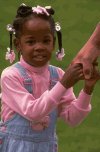 It's easy. Parents or caregivers can call our Delaware Healthy Children program's 1-800 number for an application or for any help you may need filling out an application. Proof of family income (full month's pay stubs or latest tax-return if self-employed), proof of lawful alien status (copy of front & back of alien card or INS paperwork), and proof of pregnancy (if someone in the household is pregnant) also needs to be mailed in with your application.
You can print a copy of the Delaware Healthy Children Program application right now by going to our Publications and Forms page.