Recycle Center
Delaware Solid Waste Authority
P.O. Box 455
Dover, DE 19903-0455
(800)404-7080
(302)739-5361
dra@dswa.com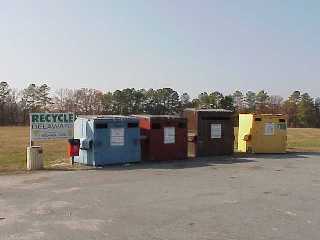 Established:
circa 1993
Hours:
Purpose:
The Recycle Center is part of Recycle Delaware and is available to the general public. Recycle bins are available for:

Clear, Green and Brown Glass
Plastic Bottles
Aluminum, Steel and Empty Aerosol Cans
Paper(Newspapers, Magazines and Phone Books)
Corrugated Cardboard

For more information on Recycle Delaware call Rich VonStetten at 1-800-404-7080.
Directions:
Please follow the written directions or the red dots on the map below to Recycle Center.



Turn into the Southern entrance of Delaware Hospital for the Chronically Ill by proceeding South on Sunnyside Road past the northern/main entrance and turn Right at the first opportunity


Need directions to the DHSS Delaware Hospital for the Chronically Ill Campus?

Turn Left at the first opportunity and proceed into a parking lot
The Recycle Center is located in the southern corner of the parking lot.
Printer friendly Map